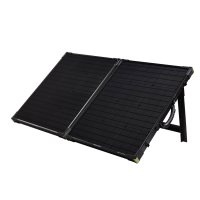 Goal Zero Solar Products
GOAL ZERO
Goal Zero produces portable power stations. These are fitted with a rechargeable battery that you can either plug into any regular wall outlet or connect to solar panels for clean energy.
Goal Zero products varies for organizations, Homes, Industries e.t.c. Some of the products are: Boulder 200 Solar Panel Briefcase, Goal Zero Yeti 1250 Replacement Battery, Goal Zero Yeti 150 Power Station + Nomad 28 Plus Solar Kit, Light-A-Life Mini USB Light, e.t.c The Yeti 1400 is one of their more popular models since it is a versatile midsize capacity battery-powered power station.
This compact box-shaped device has a continuous power output of 1500 watts and a surge power capacity of 3000 watts. The battery that Goal Zero uses for this model is a lithium-ion NMC battery.
The battery pack itself is housed in a water-tight encasing and can be replaced but has a long lifespan with minimal maintenance requirements so it is unlikely that you will have to replace the battery.
ILOR Technologies Limited is our local partner in Nigeria which provides services in Supply, Installation and Maintenance of our products.
GOAL ZERO PRODUCTS
| | | |
| --- | --- | --- |
| S/No | Product Name | Product Image |
| 1 | VENTURE 30 POWER BANK + NOMAD 7 SOLAR KIT | |
| 2 | GOAL ZERO YETI 150 POWER STATION + NOMAD 14 PLUS KIT | |
| 3 | GOAL ZERO YETI 150 POWER STATION + NOMAD 28 PLUS SOLAR KIT | |
| 4 | GOAL ZERO YETI 400 LITHIUM POWER STATION + BOULDER 50 SOLAR KIT | |
| 5 | GOAL ZERO YETI 3000 LITHIUM POWER STATION WITH WIFI + BOULDER 200 BRIEFCASE SOLAR KIT | |
| 6 | GOAL ZERO YETI 1250 PORTABLE POWER STATION | |